I get asked about this, a lot. What should we wear? Where should we do them? What do we bring? I have a big, detailed list that I usually email to clients about a month before their engagement session, and now I'm happy to have all of this info in one place where everyone can access it! In case you missed my previous post about why I think engagement photos are important, click here!
Keep in mind, that all of these are tips and suggestions based on my experiences over the years, and are in no way meant to be viewed as a set of rules. Some of these items you may already be aware of, some you may not have even thought about. Hopefully this post helps when you're prepping for your engagement session!
What should we wear?
1. You guys want to be comfortable, first and foremost! Stay true to yourselves and your style. Showcase your style and personality, but consider 'amping' this up as well. Don't forget that I'll be photographing your whole body!
2. Accessorize: shoes, belts, jewellery, and hats don't want to be overlooked, as they can really pull together an outfit and make it look complete.
3. Try to avoid clashing, super bright colours, but sometimes a bright accessory or statement piece looks great. Avoid too much black, but sometimes a little black dress can be perfect!
4. A tip for the groom! Big plaid and larger patterns photograph better than 'small plaid' or stripes. Cameras have a hard time interpreting really small patterns and stripes (this particularly applies to men's dress shirts). Also, this could be a great opportunity to buy a new shirt- go for something more fitted, since the camera makes everything look baggier than it really is! Swap out those flip flops for real shoes…and grab some nice jeans while you're at it! Dad jeans…why do you even have those?!
5. When thinking about your two outfits, consider perhaps one dressy outfit, and one thats a bit more casual. Look at your outfits side by side- make sure you guys are on the same level in terms of 'formalness' and that they are complimentary to each other. Dawna and Matt started with their most formal outfit, a long black maxi for Dawna and a dinner jacket for Matt. From there, they switched to a semi-casual outfit- a t-shirt and skirt for Dawna, and cargo shorts and long sleeve plaid shirt (see the large plaid!?) for Matt. Typically, 2 outfits is plenty but these guys were quick with their changing so it was totally fine! Dawna made a flower crown for herself and wanted to pair it with a pretty white maxi dress, and then after that we headed down to the water to do some fun football shots, so Dawna and Matt did a few quick shots in their most casual outfit-  jean shorts and a light beachy sweater. Notice how their outfits look great together because they paid attention to how formal they were in comparison to the other, and they also incorporated a lot of neutral colours, with accessories.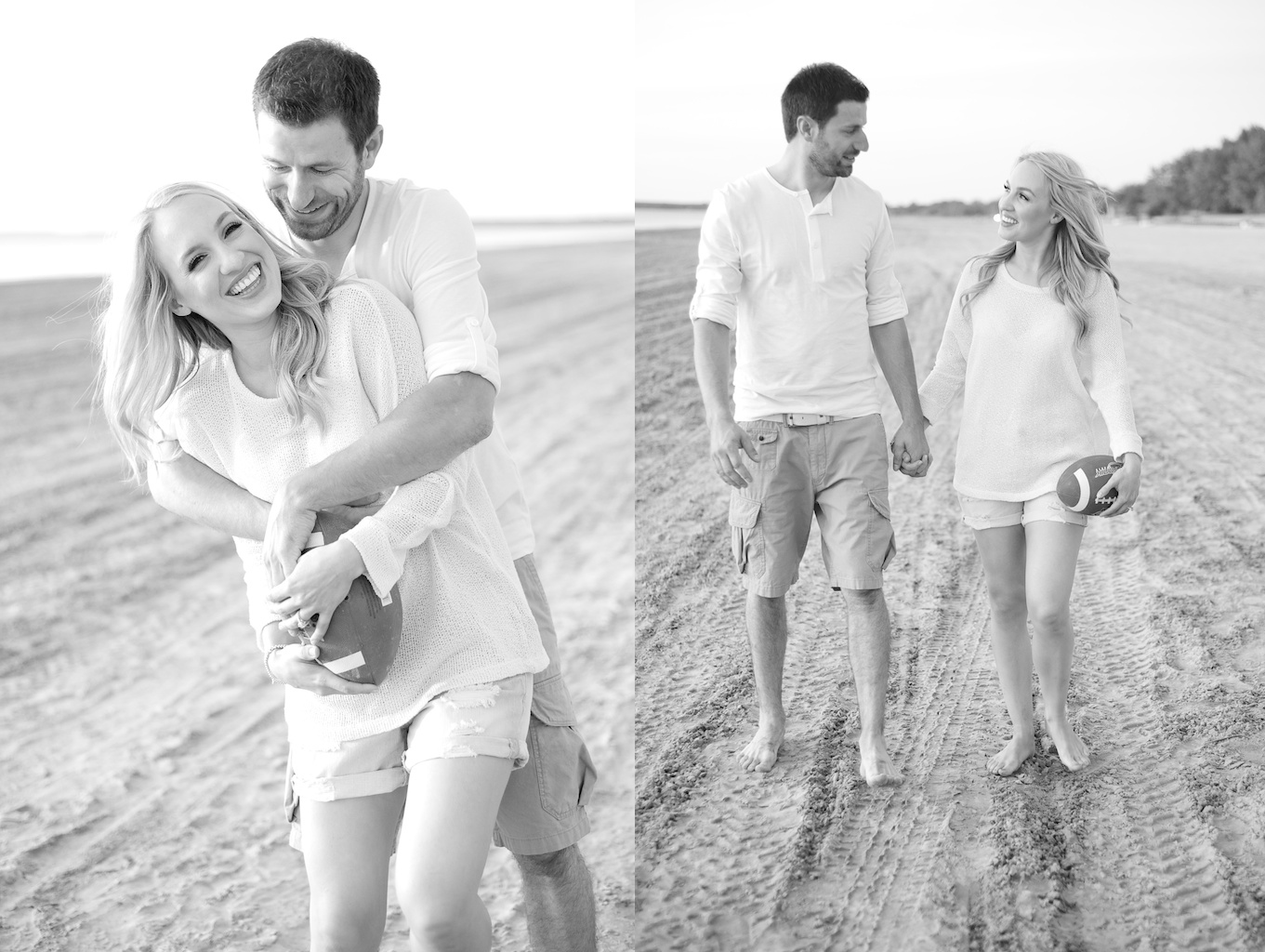 6. Consider incorporating your wedding colours somehow- even with just an accessory- it can help tie in Save the Dates or Guest Signing photo books!
7. I usually do a shot of your hands to show the ring, so keep that in mind in case your nails need some love!
8. This is a perfect day to schedule your wedding hair and makeup trial, if you were planning on having them. Professional hair and makeup can make you feel like a million bucks, and that confidence really shows through in photographs. Even just a visit to your stylist for a wash and blow out can make the world of difference. If you are doing your own makeup, take note that light, everyday makeup doesn't show up super well, so consider applying a little bit more than usual! Dawna is a professional makeup artist, so she had this one in the bag! But you can see how professional application really shows up well in the photographs, and she looks flawless.
Where should we take our engagement photos?
This is completely up to you! But if you're stuck for ideas then I can definitely help you brainstorm. If there is a place that is meaningful to you as a couple (for example, where you had your first date, where he proposed, a park that you go for runs in together, etc) then that could be a great place to start. I love shooting in open fields and tall grass, by the water, trails and natural areas! If you would like to explore more than one location, I am totally game but try to keep the two spots fairly close together so that we can spend more time shooting and less time driving! Dawna and Matt met on this beach many years ago, so we chose this as their location! It helps that its so picturesque and has one of my favourite things- beach grass!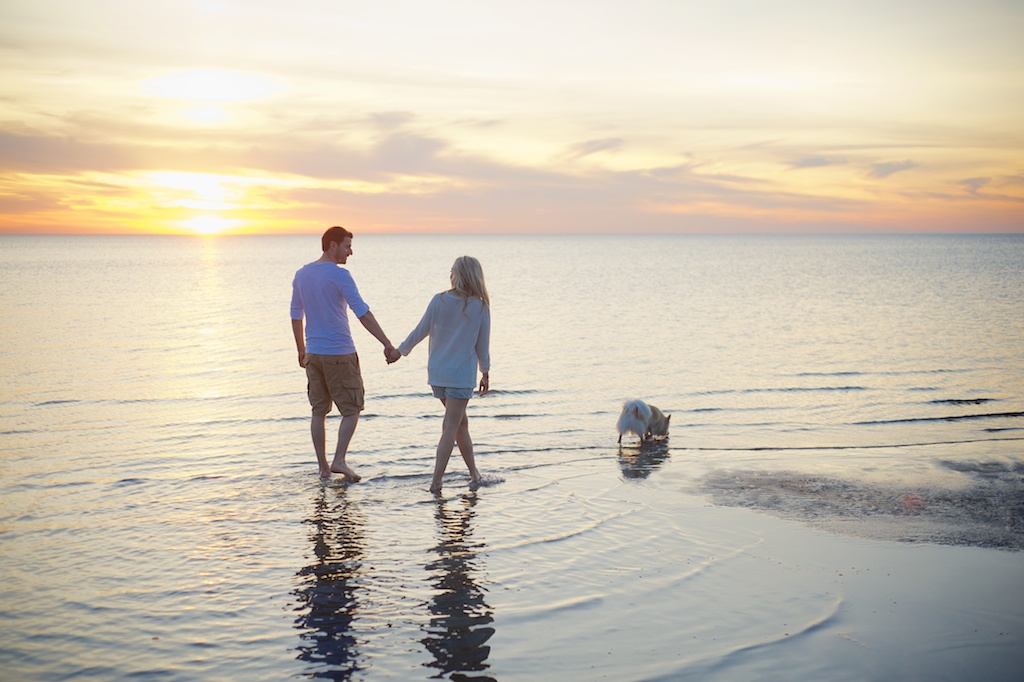 What should we bring?
Props can be fun to bring along but are definitely not needed. Some popular items include a picnic blanket, champagne, flower bouquet, etc! Anything that represents you as a couple or the things you like to do together. Having something to interact with other than just each other is really helpful and can take the pressure off! Dawna thought to bring along a vintage jewellery box for shots with her engagement ring.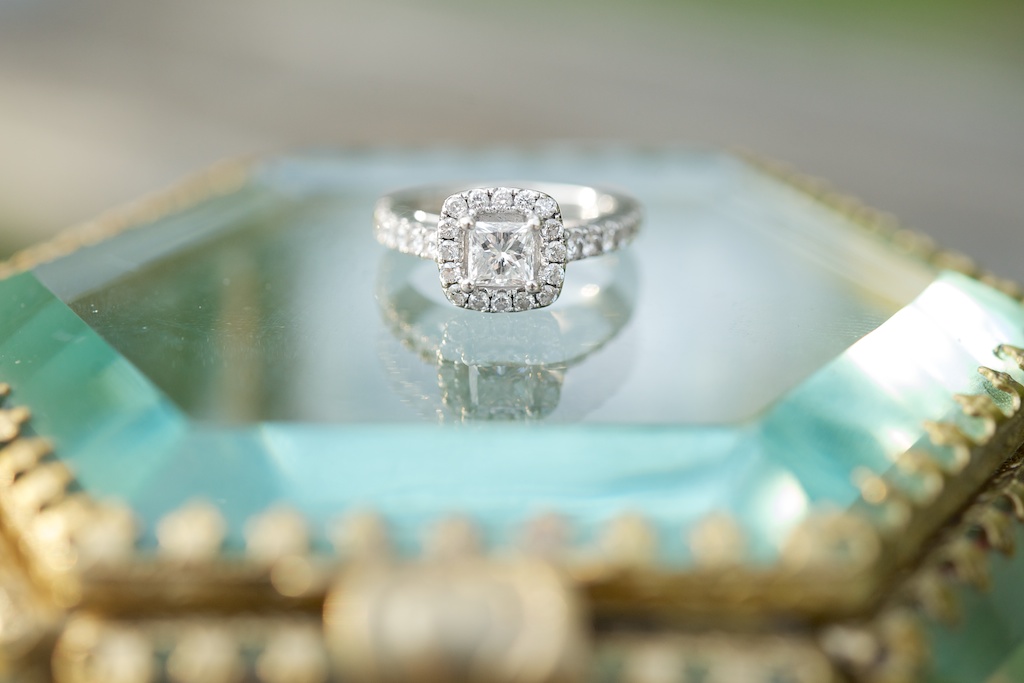 Pets can certainly be a part of your session, but I require that you bring a 'pet handler' to watch them and hold the leash, or take them home when they are not involved in the photo. We usually spend about 10 minutes at the beginning of the session with your pet and then they can head home with your pet sitter!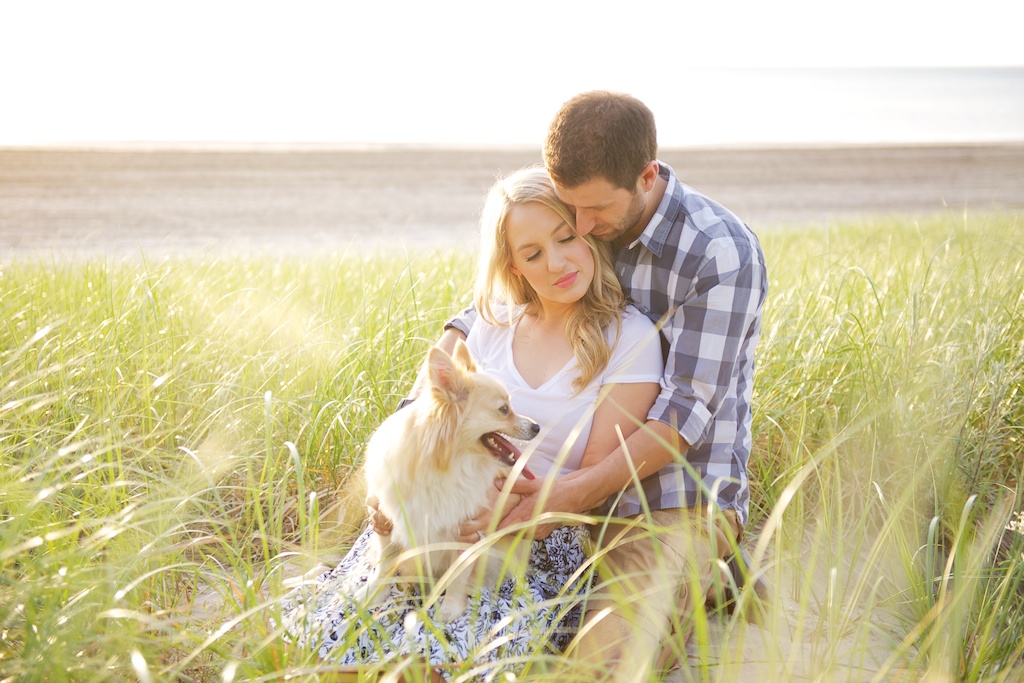 Arrive hydrated and on a full stomach! Nothing will make a session spiral downwards into a 'hangry' mess faster than a hungry man (sorry guys…you are usually the culprit of this!) Have some water and something to eat beforehand, and if you think you won't last 2-3 hours, bring a quick granola bar and a water bottle!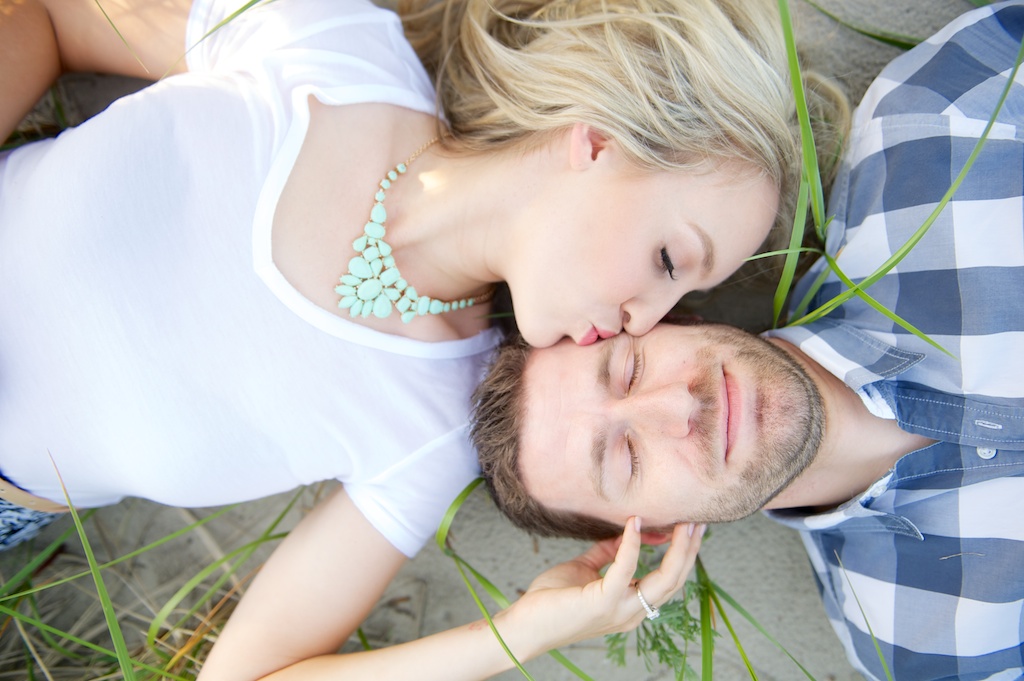 When should we schedule our session?
There is no set timeline in terms of how far in advance you need to have your engagement photos done. Sometimes I have couples who do them more than a year in advance of their wedding (if they've booked me early), and sometimes its just a few months before. I would try to schedule it sooner rather than later, with a minimum of two months before your wedding date. If your wedding is in January-June, I would recommend doing your photos the year before. If it is in July-December, we can do it earlier the same year if you like.
In the summer months, I schedule the sessions to start in the evening, usually between 5pm-6pm. The light at this time of day is ideal for shooting outdoors, as it gets that soft, beautiful golden feel to it. We will wrap up right before sunset. I recommend not making any concrete plans for right after your shoot, as we don't want to feel rushed. Its a great night to plan a nice dinner date with your fiancé, since you guys will be all dressed up anyway!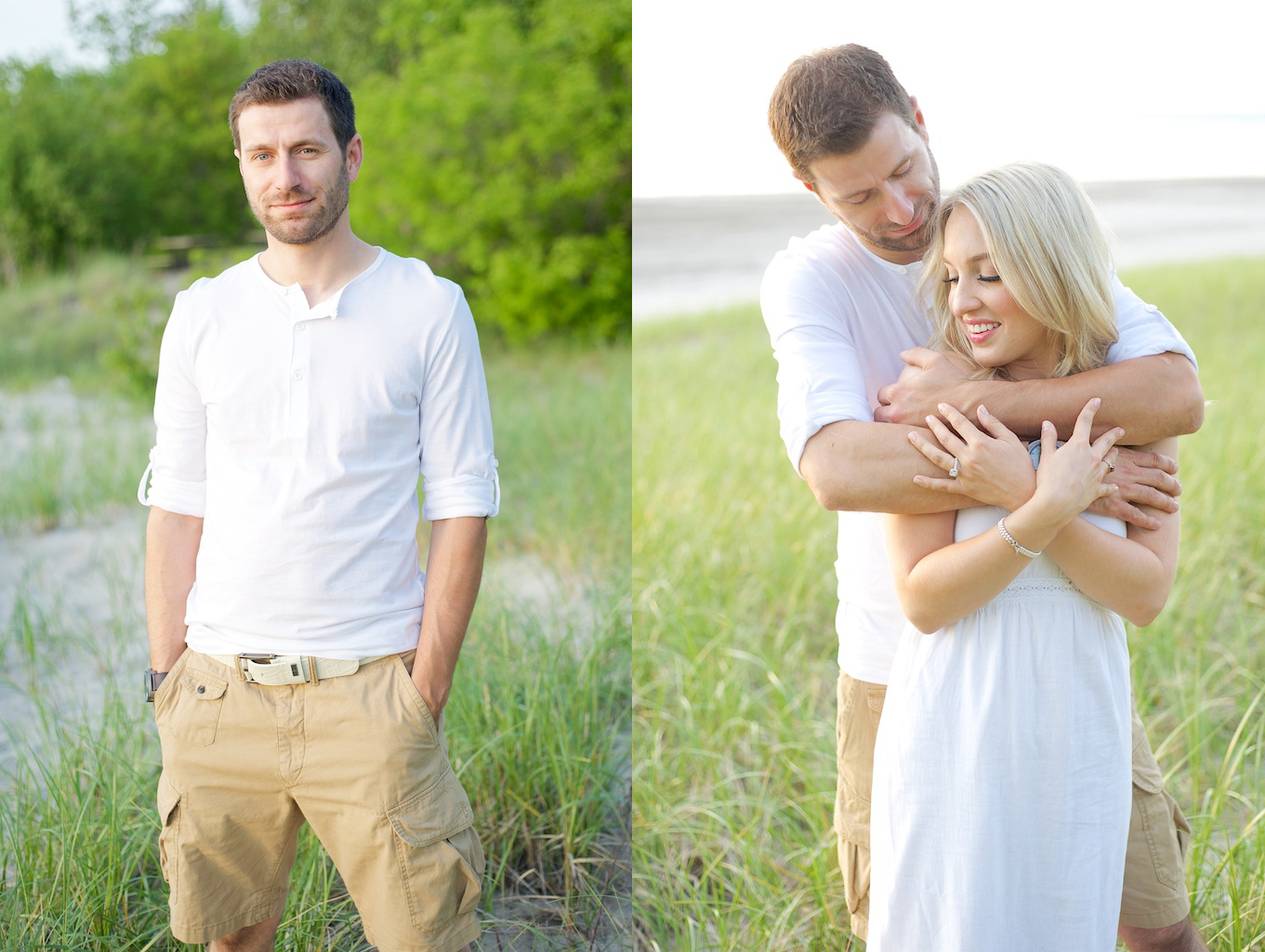 And thats it! Hopefully you'll find these helpful. If you have any other tips you think would be worth mentioning, leave me a note in the comments and I'll add it to the list!
xo Jenn