kind words from my couples:
TESTIMONIALS
Jenn was the best decision my husband & I have ever made! Throughout this entire experience, of getting married in the middle of a pandemic, she was so kind & generous & willing to work with us regarding the many changes we needed to make! She is professional and communicative, and we just simply enjoyed her company on our wedding day! I cannot say enough good things about her - and well, her photos are just breathtaking. We are blown away by her talent and feel so grateful that we have the memories she captured for the rest of our lives!
Jenn was SO amazing to work with! She was so easy to communicate with. She exceeded every expectation and went above and beyond to make sure our day was perfect and she captured all the moments of our wedding perfectly. She made us feel extremely comfortable and natural in front of the camera and her photos are absolutely amazing. Would recommend her to anyone!!!
Jenn is amazing. From the day we reached out to her to the day of our wedding she was a huge support. Jenn gave us itinerary advice prior to the wedding and gave guidance on the wedding day to help our day run smoothly. I was slightly nervous about how the photos would go without having done an engagement shoot and being slightly camera shy. However, the combination of her experience and talent with her relaxed and friendly disposition put us at ease. Every photo Jenn took is beautiful!
"We had so much fun with Jenn as our photographer on our big day. From the very beginning, she was genuinely happy and excited for us and it really showed in her ability to capture the special moments. She stayed organized and on time and has a special way of making everyone feel comfortable and ensures everyone is having a good time! We have so many beautiful photos from our day and when we go through them, it really feels like we are re-living that special day."
Choosing Jenn as our wedding photographer was the best decision we could have made. She was highly organized and professional but also kind and caring. It truly felt like we had a friend shooting our wedding!
Jenn sent us forms to fill out before the wedding so that she could have a full shot list that she followed to a T. Jenn was able to handle any awkward family situations gracefully and easily. I love all of our photos. Thank you so much Jenn!
"We had Jenn photograph our wedding this past May and we could not have been happier with her! From day one she was organized, thoughtful and professional - from organizing the engagement photo shoot to planning out the timeline of our wedding day. It was super important to us that our day be captured in a special way, as we did not hire a videographer and she more than delivered on that. Jenn has a way of capturing the special moments without you even knowing she's there - resulting in stunning, natural photographs."
"My wife and I both enjoyed our experience with Jenn. Not only was she very easy going, she made us feel like we were on cloud nine the entire day! All her attention was on us and ensured we got everything we needed. We also used Jenn for our engagement shoot and we knew right there and then that she was the perfect photographer! Her attention to detail and work is one of a kind, bar none. She is one of the best in the photography game and we are so honoured to have had her as our photographer."
"On the day itself, Jenn helped make sure everything went according to plan. She executed our first look perfectly, making a memory we will never forget. I had never done professional photographs before and didn't really know what to expect, but Jenn made it so easy. She has a way of giving very clear and succinct directions, which make it easy to play your part in getting the shot she is looking for. As for the finished product, we couldn't be happier. We knew Jenn's photos would be great, but they still exceeded our expectations. We have guests telling us the photos belong in a magazine. We love them. She offers the combination of an easy going personality and first-class results. Jenn is a pro and we can't recommend her enough."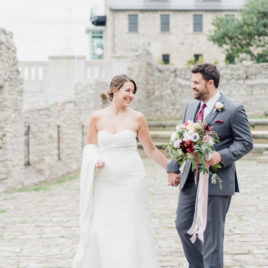 "From the minute we met Jenn, she put us completely at ease. At our wedding, our guests kept remarking on how well our photographer blended in, but was also so organized and efficient. When I got our photos back, I can't say I was surprised by how amazing they were (just looking at Jenn's portfolio you can tell how truly talented she is) but I was absolutely thrilled with how everything turned out. Thank you so much Jenn for giving us such amazing photos to look back on for years to come!"